ultimetric

technology configured for specific applications
Ultimetric Response
offers flexible modular options for any power or service provider. Whatever your set-up,
ultimetrics
will ensure you can adopt any new service, without disruption to current operations or losing control over your assets.
Response
is a second-generation product introduced to the market in 2016.
Response
is based on our legacy TelGas product which has been successfully controlling Natural Gas and CMM Gas Powered Generation Sites since 2002.
Ultimetric
Response
has inherited the principles of secure and reliable design whilst enabling clients to have much greater autonomy with day to day operation of their system. We have enabled clients to independently make changes to their systems 24/7 without the need to involve
ultimetrics
personnel.
Response
options allow clients to operate
ultimetrics
from their own cloud servers if they wish, enabling them to copy and run a new instance without the need to involve
ultimetrics
. Likewise, site based hardware can be replaced and configured easily without any
ultimetrics
involvement.
These features enable fast and independent involvement by clients, ensuring that any service interruptions are kept to a minimum.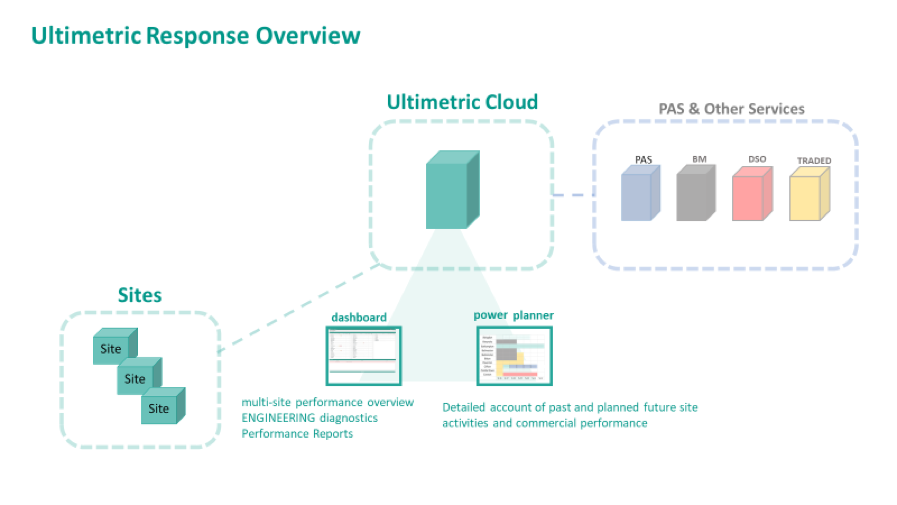 this module can be installed in the cloud or at your premises and connects to your current dispatch system (via your API or standard protocols), giving easy integration with ANY service controlled over the web (for example STOR, FR, TERRE & DSO contracts)
dispatches all of your services securely and reliably with flexible mapping from contract to site, fully scriptable to track whenever your needs change. Notifications keep you up to date with the activity of your entire portfolio
ultimetric reporting dashboard collects live data from multiple sites. Built with response services, performance dashboards, diagnostics and intuitive graphing. Designed to work with all of your services, it exposes its own API for pushing your data. Report is user configurable, providing full scripting support, enabling your integration team to create custom dashboards with graphs and statistics as required
installed at your site and attached to your generation assets, our technology controls and monitors your site, providing visibility on local user configurable dashboards, remote dashboards, together with data logging, notifications and full scripting control. Site can connect to the providers dispatch services directly, or can be controlled centrally by our multi-site cloud based dispatch module
Ultimetric Response solutions
To view your solution, simply click the Solution Toggles below to see how we can support your business model
I want to add
new services
API modules can be installed in the cloud or supplied with an embedded processor and installed on your premises. Connection is made to your current dispatch system via your own API or standard protocols, enabling easy integration with ANY service controlled over the web. 
Add a new service to your existing system using an API
Simple secure protocol integrated into your dispatch system
Declaration & Settlement via browser dashboards
I only have a singular generation site
Installed at your site and attached to your generation assets, ultimetric site will monitor and control your system and provide visibility on site via user configurable dashboards, data logging, notifications and full scripting control. ultimetrics can connect to dispatch services directly or BRIDGE your mix of assets from multiple sites to a cloud dashboard
Install a site module and connect to a service API

Site

can also emulate an SRD PC, acting a s plug-in replacement
Declaration & Settlement via browser dashboards
I need a complete dispatch solution
This option will dispatch all of your services securely and reliably with flexible mapping from contract to site, fully scriptable to track whenever your needs change. Notifications keep you up-to-date with all the activity of your portfolio
Dispatch & Report modules control and report Calls from a secure cloud platform
Each site is managed locally by site modules
Declaration & Settlement via browser dashboards